Product outline
The Center Master is a unique device that enables the automatic compensation of position and angle errors in component assembly errors using multiple elastomer shear pads (ESPs) on the principle of Remote Center Compliance (RCC) developed and tested at the Massachusetts Institute of Technology (MIT) in the U.S.
It can be used for a broad range of applications from precision component insertion operation by robots or dedicated machines to press fitting operation applying a load of 100 kN or more.
Automatic compensation of position error

Press-fitting/insertion waveform control by combination with indicator
By combining load cell signal from the Center Master and control equipment such as a digital indicator, systematic quality control is made possible.
Real-time quality control by press-fitting/insertion force waveform display

※

OK/NG judgment of press fitting results by use of displayed waveform

※

100% work waveform recording in an SD card

※
※When the Center Master S-Series and Digital Indicator F381A are used.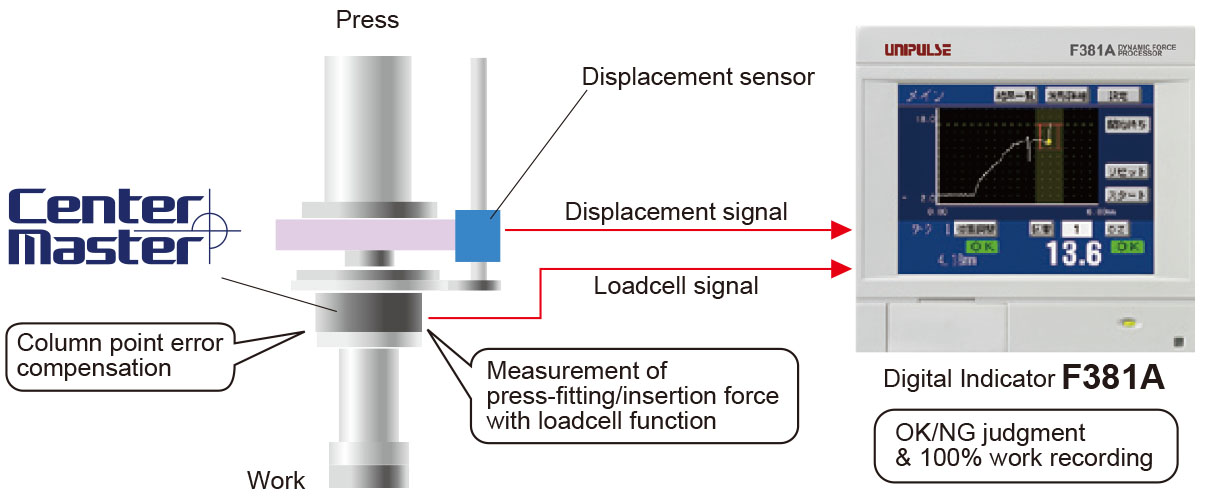 Download
Product catalogue(PDF)

⇒Download Page

Operation manual(PDF)

External dimension

DXF
(ZIP)

PDF

Support tools

Software