Product outline
DS252 is a data recorder that can be connected to Unipulse Weighing Indicators and Digital Indicators via SI/F Interface (2-wire type serial interface). Data of indicator can be recorded in CSV format in CF card, which will facilitate data analysis on your PC. In addition, data of various types of equipment can be printed via BCD input or RS-232C interface.
Features
DS252 is a paperless printer that can be easily connected to unipulse weighing indicators and digital indicators via SI/F* interface.
Record CSV-formatted data in CF card! Easy data analysis on your PC.
* SI/F: the standard serial interface built in Unipulse Indicators, which allows connection up to 3 external peripherals.

Mass recording in CF card
Weight/load data of indicator or DS252 statistical data can be mass-recorded in CF Card.
The data equivalent to amount of data printable on 200 rolls* of rolled paper can be recorded in 64MB CF card.
Even without a CF card, the data equivalent to amount of data printable on 1 roll* or more rolled paper can be recorded in DS252 internal memory.
* In comparison with Unipulse printer M252A (which is able to print 8000 rows on 1 roll of rolled paper)

Data recorded in CSV format
Data can be recorded in the easy-to-handle CSV format and can be editable as it is using Microsoft Excel or other applications.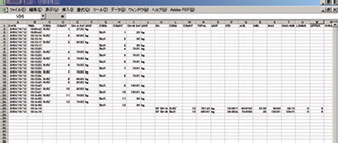 Code-table function
DS252 has been pre-set with a 2-digit number to each of its code type. This function allows the code to be registered in the pre-set code by entering only the pre-set 2-digit number either using the front panel key or via an option. The code can use alphanumeric characters, katakana and/or symbols for up to 6 characters or digits. Up to 100 codes can be classified and tailed in each channel.
High-level statistical calculation functions
DS252 is pre-loaded with a function that calculates grand total, sub-total, maximum, minimum, average or standard deviation of the recorded data. At the same time, DS252 is able to grasp the extent of data variation using its frequency distribution function.
Simple operation & code-table registration via PC
・As setting items are displayed on the LCD panel, setting can be easily done using the front panel key while viewing the display.
・DS252 codes can be saved in the CF Card. And reversely, codes saved in the CF Card can be written in DS252 internal memory. As this bothersome code registration process can also be done on a PC, the operation is very convenient indeed.

Optional interfaces
Basically, SI/F interfaces are installed in 2 channels to enable economical double channel recordings. However, as option interfaces, there are RS-232C and BCD input interfaces available. With that, data from various kinds of devices can be recorded.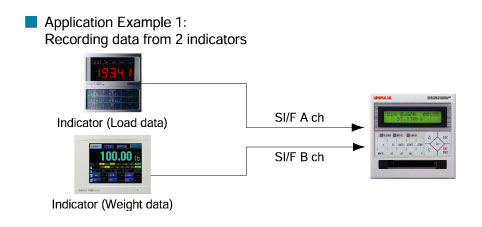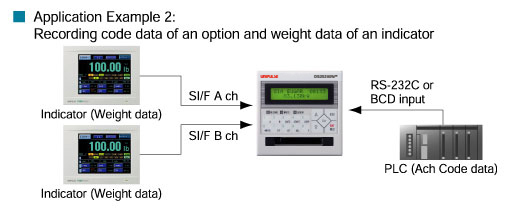 By entering via the front panel key, weight data with code can be recorded in both Ach and Bch. Names of each part code data of Ach can also be entered via an optional interface.
Names of each part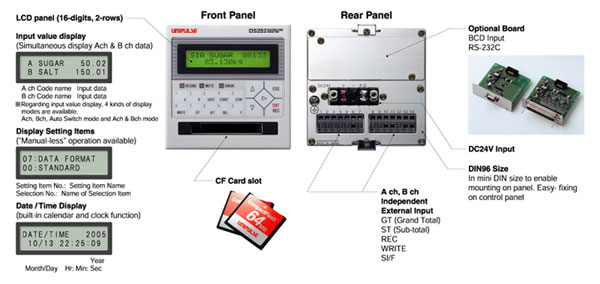 Specifications
Card slot|File specification|Data recording method|File writing method|Details of recorded data|Functions|Setting section|Display section|Internal clock|External signal|Interface|General performance|Attachments
Card slot

Card specification
CF-Card (Type I or Type II)
Power supply
5V
Available capacity card
Max. 512 MB (FAT16)
File specification

File format
CSV format text file
File name
ddhhmmss.csv (dd:day, hh:hour, mm:minute, ss:second)
Create file timing
During grand total (GT) operation or at random timing
Data recording method

・ REC key input
・ Rear panel input (REC terminal)
・ Auto Recording command input (via SI/F, RS-232C)
・ Automatic record by interval setting (1 to 9999 sec.)
File writing method

・ WRITE→ENT key input
・ GT→ENT key input
・ Rear panel input (WRITE terminal)
・ Rear panel input (GT terminal)
・ In case of full internal memory
・ Set by maximum recording count for each codes
・ Setting time
Details of recorded data

Date, Time, Input value, Unit, Status, Code name (6-digits), Count (1 to 9999 counts), Sub-total (9-digits), Grand Total (9-digits), Batch Total, Maximum Value, Minimum Value, Average, Standard Deviation, Range (Max-Min), Frequency Distribution, Error, Over
Functions

Grand total/sub-total recording, batch totaling, code sorting type, deletion recording, OVER recording, interval recording, both recording
Setting section

Setting method
Front panel keys
Display section

Main display
16-characters x 2-rows, Character height 4.3 mm
Sub display
LED x 3
RECORD (Green): Data recording in-progress
WRITE (Green): Writing-in progress into card
ERROR (Red): Error display
Internal clock

Accuracy ±1 minute Gain/loss per month (25℃)
External signal

・ Ach: (1)COM, (2)REC, (3)WRITE, (4)ST, (5)GT, (6)SI/F, (7)SI/F
・ Bch: (8)COM, (9)REC, (10)WRITE, (11)ST, (12)GT, (13)SI/F, (14)SI/F
Interface (*With regard to options, only one function can be installed.)

SIF
SI/F 2-wire serial interface(Standard)
…This is a simple output serial interface for connection of a UNIPULSE-manufactured printer, external display, etc..
BCI
BCD parallel data input interface (option)
…Parallel interface to receive setting values from external devices.
232
RS-232C communication interface (option)
…Weight data, various kinds of status, and various setting values can be written, changed, and read by commands from the host computer side.
General performance

Power source
DC24V±15%
Power consumption
Max. 150mA
Inrush current
10A (800μsec(Typ.))
Operation condition
Temperature: Operation temperature range: 0℃ to +40℃; Storage temperature range: -20℃ to +70℃
Humidity: 85% RH or less (non-condensing)
Dimensions
96(W)×96(H)×110(D) mm
Weight
Approx. 0.8kg
Attachments

Mini driver
1
BCD input connector
1 (with BCD option)
Operation manual
1
Option
Model

232
RS-232C communication interface
BCI
BCD parallel data input interface
---
Please note that there are possibilities of individual differences in a color tone on display devices such as LEDs, fluorescent display tubes and LCDs due to manufacturing process or production lots.
---
Download
Product catalogue(PDF)

⇒Download Page

Operation manual(PDF)

External dimension

DXF
(ZIP)

PDF

Support tools

Software