Product outline
F156 is a weighing controller that can be directly connected to Mitsubishi Electric's general-purpose sequencer. It allows the weighing system construction time to be reduced with serviceability improved. Equipped with the weighing sequence function, which allows direct control of feeding and discharging gates only by entering the target weight value, F156 of compact design is ideal for use integrated into a control panel, etc. Its integration into equipment and installation of DIN rail are also supported.
Specifications
Analog section|Setting section|Interface|General performance|Attachments
Analog section

Excitation voltage
10V DC ±5%, Output current; within 120mA,
Remote sense type (Up to 4 loadcells at 350Ω are parallel-connectable.)
Zero adjustment range
0 to approx. 2mV/V
Gain adjustment range
0.3 to 2.0mV/V
Min. input sensitivity
0.3μV/count
Accuracy
Non-linearity: within 0.01% FS
Zero drift: within 0.1μV/°C RTI (Typ: 0.08μV/°C)
Gain drift: within 15ppm/°C (Typ: 7ppm/°C)
Analog filter
Bessel low-pass filter (-12dB/oct.)
selectable from 2, 4, 6, 8 Hz
A/D converter
Speed: 500 times/sec.
Resolution: 16bit
Min. display resolution
1/10000 (Internally 1/40000)
Setting section

Setting method
Setting by host on CC-Link or RS-232C interface, or setting by separately-sold remote console unit C110 or C120
Setting value storage
・ Initial setting values: NOV RAM (nonvolatile RAM)
・ Other setting values: C-MOS RAM with backup of a lithium battery
* In either case above, rewrite can be locked.
Setting items
・ Final, SP1, Before final, FF, over, under, high limit, Low limit, near zero, tare set
・ Compare inhibit time, judging time, complete output time, CPS feed time, auto zero times, judging times, FF CPS coefficient, average count of FF CPS, FF CPS
・ Select final and over/under comparison, select HI/LO limit comparison, select near zero comparison, discharge control mode, digital tare subtraction ON/OFF, FF CPS ON/OFF, complete signal output mode, over/under comparison mode, HI/LO limit comparison mode
・ Digital filter, motion detect (period), motion detect (range), zero tracking (period), zero tracking (range), analog filter, count of console display, SI/F gross/net select
・ Balance weight, capacity, min. scale division, net over, gross over, DZ regulation, decimal place, gravitational acceleration, set value LOCK (SOFT LOCK)
・ Simple comparison, select sequence mode, sequence mode CPS feed ON/OFF, sequence mode near zero check ON/OFF, sequence mode weight check ON/OFF, select external control input 0 – 4, select external control output 0 to 6
・ tare, tare reset, digital zero, digital zero reset, sequence start/stop, sequence error reset, zero calibration, span calibration
External signal
・ Input/output (14p amphenol type connector)
・ Input (5 points): ON when shorted to COM terminal
・ Output (7 points): Transistor's open collector output; ON when transistor's ON. Vceo=30V (max), Ic=50mA (max)
Interface

CC-Link
Field network to link with Mitsubishi's PLC
Transmission medium: 3-wire type (with shield)
Transmission rate: Selectable from 156k/ 625k/ 2.5M/ 5M/ 10M bps
RS-232C
Write / read weight data, various statuses and setting values via commands from host computer (Exclusive use with setting remote console unit, C110 or C120)
Specification: RS-232C conformance, Transmission mode: Full duplex, asynchronous
Transfer rate: 1200/ 2400/ 4800/ 9600/ 19200/ 38400 bps
Format: Data length: 7/8 bit
Stop bit length: 1/2 bit
Parity bit: Odd/ even/ none
SI/F
2-wire type serial interface. This is an interface to connect to Unipulse printers, external display units, etc. Transmission mode: Asynchronous, Transfer rate: 600 bps
General performance

Power supply voltage
100 to 240V AC (+10% -15%) (Free power supply 50/60Hz)
Power consumption
13.0/12.5VA (Rating: 100V)
Operating conditions
Temperature: Working temperature range -10°C to +40°C;
Storage temperature range -20 to +80°C
Humidity: 85% RH or less (non-condensing)
Dimensions
67(W)×185(H)×130(D) mm (protruding parts not included)
Weight
Approx. 1.7kg
Attachments

AC input cable (3m)
1
Spare fuse (0.5A)
1
Loadcell input connector
1
57 series 14p connector for external I/O
1
RS-232C connector
1
CC-Link connector
1
Terminal block connection driver
1
Wall anchor
1
Crimping terminal
3
Operation manual
1
Optional accessories
Model

C110
Setting remote console unit, 4 keys, Cable length 0.5m
C120
Setting remote console unit, 12 keys, Cable length 0.5m
CAAC2P-B3
AC input cord 3m
CAAC3P-CEE7/7-B2
AC input cord (withstand voltage: 250V) 2m
CA38X11
Mini DIN-D-Sub 25p crossing cable 1m
CN20
57 series 14p connector for external I/O
CN60
Round DIN 8p connector for RS-232C
CN71
CC-Link connector
CA4131
(6-core) cable with JR connector at one end (cable end is separated) 3m
CA4230
JR-PRC conversion relay (6-core) cable 0.3m
CA4311
JR-PRC conversion relay (6-core) 4-wire type / 6-wire type (for 520A) 1m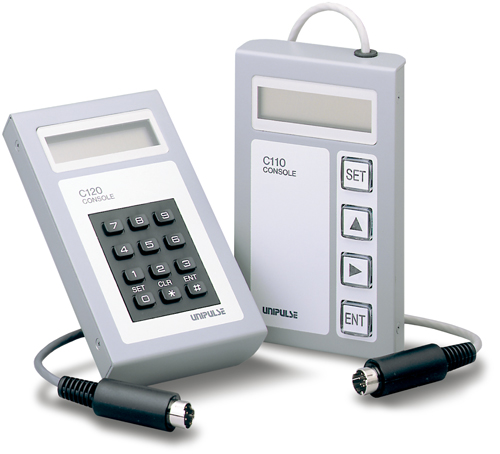 C120(left)/C110(right)
---
Please note that there are possibilities of individual differences in a color tone on display devices such as LEDs, fluorescent display tubes and LCDs due to manufacturing process or production lots.
---
Download
Product catalogue(PDF)

⇒Download Page

Operation manual(PDF)

External dimension

DXF
(ZIP)

PDF

Support tools

Software