Product outline
ULE-50 is a digital contact sensor designed for use with FS2000 and F381A-LDI.
50mm stroke for various workpieces.
Robotic cable for installation on moving parts.
Ideal for use with FS2000,F381A-LDI indicator.
By using it with a load cell and "FS2000,F381A-LDI" force vs. displacement measurement can be performed!!!
Features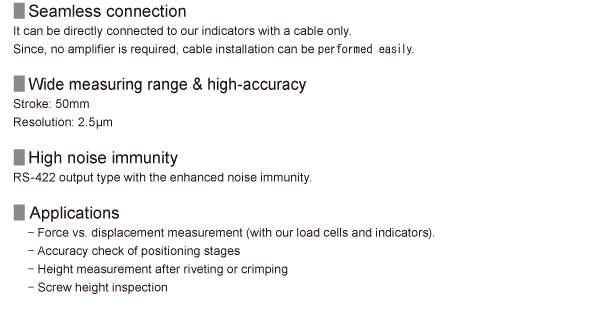 Example of use : Press-fitting with force vs. displacement measurement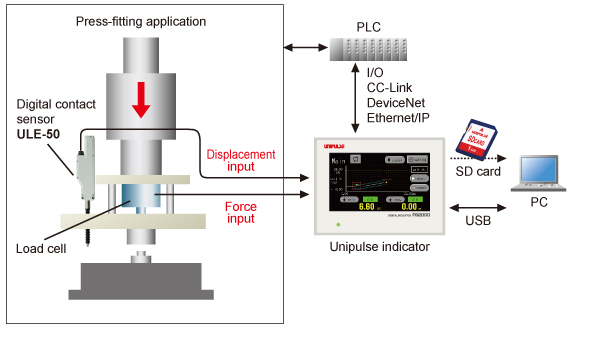 Specifications
Model
ULE-50
Displacement measurement method
Optical incremental linear encoder
Measurement range
50mm
Measurement resolution
2.5μm (When connected to a UNIPULSE indicator)
Contact measurement capacity
When installed vertically downward: Approx. 2.8N
When installed horizontally: Approx. 2.6N
When installed vertically upward: Approx. 2.3N
Output signal
Differential line driver signal with 90° phase difference (RS-422A compliant)
Operating temperature range
-10℃ to +40℃ (No icing/condensation)
Storage temperature range
-20℃ to +60℃ (No icing/condensation)
Cable
Robot cable (Length 2 m)
Weight
Approx. 350g
Power supply voltage
DC4.5 to 30V
Current consumption
Approx. 0.1A or less
Attachments
Connection cable (Robot cable: Length 2 m)



External dimension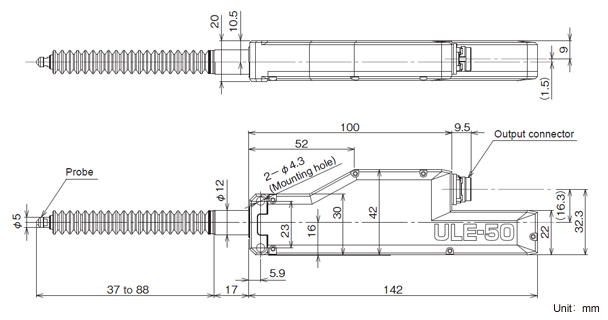 Download
User registration is required to download operation manuals, external dimentions, support tools and software.
Acrobat Reader software from Adobe Systems is required to view PDF files.