Product outline
F388A is a wave form checker integrated with a voltage / current output type sensor that can display physical quantities such as pressure, load and torque in waveforms. It is able to visually capture in waveforms the fluctuations in physical quantities which are difficult to capture by only numerical values. With a 4000 times per second for high-speed processing, it is also ideal for narrow value fluctuations and comes equipped with a HI/LO limit comparison function, various hold functions and judgment function. F388A can be used in a wide-range of applications such as in control systems used in production control, automatic devices or testers.
LCD touch panel
Setting operation can be effortlessly performed by a direct touch on touch panel.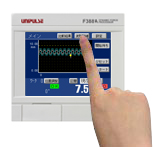 Saves measurement data in an SD card
Measurement data and set values can be logged (recorded) in the SD card. Such data can be retained as 100% recorded quality data or be used when setting up equipment or when performing cause analysis or improvement of problems. The data can be easily converted to CSV format and is therefore easily edited in Microsoft Excel or the like.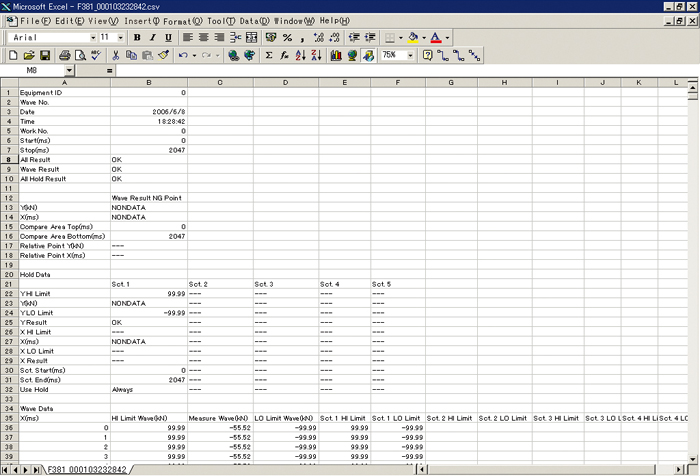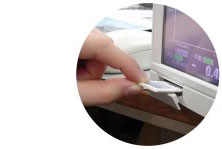 Plus common/ minus common shared sink type/ source type selectable
Its input type is combined-use plus common / minus common while its output type is selectable between sink type and source type. It can be connected to various types of external equipment such as PLCs.


4000 times/sec. high-speed processing
F388A is installed with a high-speed A/D converter and high-speed CPU that can process sensor signal input at 4000 times/sec. with this, fluctuations in narrow values will not be overlooked.


Wide array of interfaces
F388A provides a wide array of interfaces to give flexibility in system networking. As starters, there is the Ethernet and the proven RS-232C that can provide a direct link to site PLCs such as the OMRON DeviceNet or the MITSUBISHI CC-Link without the need for any bridging devices.


Comparison & hold function by waveform display
These functions are used to judge the acceptability of measurement waveforms. Depending on type of applications, Waveform Comparison Function and Multi Hold Function can be jointly utilized for judgment.


Waveform comparison function
This function compares the actually measurement waveform against the setup Hi/Lo limit waveforms and will give out an NG judgment when any of the point exceeded the set Hi/Lo limit waveforms. As it compares the measurement waveform in overall, accurate judgment can be made even in applications that are unable to narrow down its judgment.

Multi hold function
After the measuring area is divided, judgment can be carried out while type of hold (sample, peak, valley, P-P, max, min, inflection point) is interchanged at will. It is capable in specifying Hi limit value, Lo limit value and type of hold at each interval.


Comparison results display
The comparison results of Waveform Comparison Function and Multi Hold Function can be verified on the display.【Result(List)】(An individual display) and 【Result(Single)】(a list display) to selection is possible. (Latest 40 data)


Example of use combined with torque meter UTM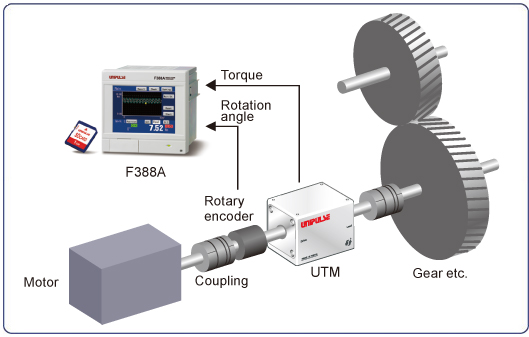 Specifications
Sensor input|Display section|Setting section|I/O section|Interface|Option|General performance
Sensor input for voltage/ current

Voltage input
-10 to +10V
Input impedance: 1MΩ or more
Current input
-20 to +20mA
Input resistance: Approx. 250Ω

Accuracy
Non-linearity: 0within 0.02%/FS±1digit (at a 10V or 20mA input)
Zero drift: within 0.2mV/℃ RTI or within 0.4μA/℃ RTI
Gain drift: within 0.01%/℃
Analog filter
Low pass filter (-6dB/oct.)
Selectable at 10, 30, 100, 300Hz
A/D converter
Speed: 4000 times/sec.
Resolution: 24bit (binary)
Effective resolution: Approx. 1/30000 to 10V or 20mA input
Analog voltage output
Output level: Approx. 0.6V per 1V input or approx. 0.15V per 1mA input
Load resistance: 2KΩ or more
Sensor input pulse input (open collector)

 

Maximum input frequency
50kHz
Internal counting range
Approx. 1,000,000
Adaptable sensor
Output:
Incremental type 2-phase output (A/B signal output)
Also capable of single-phase output (A-phase input used. All pulses are counted as in the plus direction.)
Output stage circuit specification:
open collector
(NPN type, Vceo=30V or more, Ic=30mA or more)
Display section

Display unit
TFT color LCD module
Display area: 71(W)×53(H) mm
Dot structure: 320×240dot
Indicated value
Load: -9999 to +9999
Displacement: -9999 to +32000
Decimal point: The decimal place is to be input together with a value at the time of calibration. 0.000, 0.00, 0.0, 0
Number of display times
Fixed at 3 times/sec.
Setting section

Setting method
Setting by analog type touch panel operation.
Preservation of set values
NOV RAM (nonvolatile RAM), Lithium-battery-backed-up C-MOS RAM
I/O section

Input signals
16 points
Input type: plus common / minus common shared
To connect a transistor, connect NPN output type (sink type) for plus common and PNP output type (source type) for minus common.
ON voltage: 12V or more, OFF voltage: 3V or less, 24VAt 24V load: approx. 5mA
Isolation: photocoupler
Output signals
16 points
Output type: sink type/ source type selectable. (Source type is optional [ISC].)
Output transistor ON at signal ON.
To connect an input unit like a PLC, connect plus common for sink type, and minus common for source type.
Rated voltage: 30V, Rated current: 30mA
Isolation:photocoupler
Interface

RS-232C communication interface
Start/stop system
Baud rate: 1200bps to 38400 bps
All parameters can be read and written.
All comparison waveforms can be read and written.
Measurement waveforms and judgment points can be read.
Option ( Only one interface option can be installed.)

SD card slot [SDC]
All parameters can be preserved and reconstructed.
All comparison waveforms can be preserved and reconstructed.
Measurement waveforms and judgment points can automatically be preserved.
* An SD card of 1GB is attached. Approx. 80 waveforms can be memorize by 1MB.
I/O sourrce boad [ISC]
Output type: sourrce type
To connect an input unit like a PLC, connect minus common.
DeviceNet interface [ODN]
Connectable with DeviceNet-compliant OMRON CompoBus/D seamlessly.
All parameters can be read and written.
All comparison waveforms can be read and written.
Measurement waveforms and judgment points can be read.
CC-Link interface [CCL]
Directly linkable with a Mitsubishi (multipurpose) sequencer.
All parameters can be read and written.
Judgment points can be read.
Ethernet interface [ETN]
All parameters can be read and written.
Measurement waveforms and judgment points can be read.
General performance

Power supply voltage
DC24V (±15%)
Power consumption
20W max
Inrush current (Typ)
2A, 10msec (at ordinary temperature, cold-start)
Operating conditions
Operating temperature range: -10 to +40℃, Storage temperature range: -20 to +60℃
Humidity: 85%RH or less (non-condensing)
Dimensions
96(W)×96(H)×117.3(D) mm (Projections excluded)
Panel-cut dimensions: 92×92 (+1-0) mm
Weight
Approx. 1.0kg
Option
Model

ISC
I/O Source board
SDC
SD Card slot (An SD card of 1GB is attached.)
ODN
DeviceNet interface
CCL
CC-Link interface
ETN
Ethernet interface
Optional accessories
Model

DTC1
Case for F388A (with AC power supply)
SD1G
1GByte card
SD2G
2GByte card
CA81-232X
miniDIN-D-Sub9p cross cable
CN52
FCN series I/O connector (with cover)
CN57
FCN series I/O connector (with diagonal cover)
CN60
Circular DIN 8p connector for RS-232C
CN71
CC-Link connector
CN81
Analog I/O connector terminal
CND01
DeviceNet connector
GMP96×96
Rubber packing
---
Please note that there are possibilities of individual differences in a color tone on display devices such as LEDs, fluorescent display tubes and LCDs due to manufacturing process or production lots.
---
Download
Product catalogue(PDF)

⇒Download Page

Operation manual(PDF)

External dimension

DXF
(ZIP)

PDF

Support tools

Software