Product outline
F650-CK is a weighing indicator designed for in-motion check weigher.
With high-performance filter to attenuate noise and vibration, stable and accurate weight measurement can be achieved.
All necessary functions for check weighers like over/under evaluation, ranking or sorting, various weighing modes, conveyor controls, statistics, and so on are packed into this model.
High-performance filter to attenuate vibration
Cut-off frequency for low-pass filter with steep property can be adjusted in fine increment for in-motion check weighers.Stable and accurate weighing can be achieved even in an environment with a lot of vibration.
Waveform display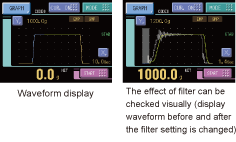 Waveform can be constantly monitored.Since the effect of filter can be visually checked (simulated), the adjustment of filter settings can be performed easily.
Over/under evaluation and ranking functions
Check if the weight is over or under the target weight, and/or sorting into preset grades or classes (sorting into 11 grades or classes at the most).
Useful weighing modes to improve efficiency and accuracy
Auto sorting mode is useful when conveyor speed, size, and weight are not constant.
Reduction of processing capacity can be prevented as zero adjustment can be performed during operation.
Detect the situation where two cartons are on the scale.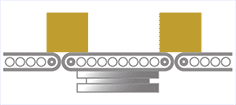 2Even if two cartons are on scale, weight of each individual carton will be weighed and judged (OK/NG).
Conveyor control
Control signal is sent out for controlling conveyor.In-motion check weigher can be designed only with F650-CK.
Real-time statistic function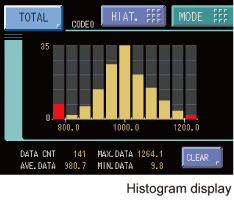 In order to process statistics in real time, you can constantly check and monitor the variation and distribution of data.
Specifications
Analog section

Excitation voltage
DC5V±5% Output current: within 90mA
Ratiometric method (Up to 6 load cells at 350Ω can be connected in parallel.)
Signal input range
-0.3 to 3.0 mV/V
Zero adjustment range
-0.2 to 3.0 mV/V Automatic adjustment by digital computation
Gain adjustment range
Automatic adjustment by digital computation
Accuracy
Non-linearity: within 0.01%/FS±1digit (when 3mV/V is input)
Zero drift: 0.025μV/℃ RTI Typ
Gain drift: 1ppm/℃ Typ
A/D converter
Conversion rate: 1000 times/sec.
Resolution: 24bit (binary)
Min. display resolution
1/10000
Theoretical calibration
Equivalent input calibration: accuracy when theoretical calibration is performed: 1/1,000
Filter

Digital filter
Moving average (common for all modes): OFF, 2 to 999 times
Low-pass filter
Variable: 2.0 to 10.0Hz
Display section

Display unit
TFT color LCD module 3.5inch (320×240dot)
Display area: 71(W) x 53(H) mm
Weight display
5-digits (signs: minus sign on the highest numerical digit)
Unit
NONE, kg, t, g, N, or lb (selectable)
Decimal place
0, 0.0, 0.00, or 0.000 (selectable)
Status display
BUSY, GO, EMP, SMP, COMP, NZ, STAB
Setting section

Setting method
Setting by analog touch panel operation (with a key click buzzer)
Setting can be performed by external devices as well via RS-232C interface and so on.
Setting value memory
Initial values F.RAM (nonvolatile RAM), other values : lithium-battery-backed-up C-MOS RAM
Settings protection
Setting operation can be prohibited to prevent changes by miss-operation (LOCK1, LOCK2, LOCK3).
Setting item
・Standard mode (COMP MODE SEL.: COMP):
 CODE/ STANDARD/ OVER/ UNDER/ UPPER/ LOWER
 
・Standard mode (COMP MODE SEL.: RANK.1):
 CODE/ BOUNDARY 0/ BOUNDARY 1/ BOUNDARY 2/ BOUNDARY 3/ UPPER/ LOWER
 
・Standard mode (COMP MODE SEL.: RANK.2):
CODE/ BOUNDARY 0/ BOUNDARY 1/ BOUNDARY 2/ BOUNDARY 3/ BOUNDARY 4/ BOUNDARY 5/ BOUNDARY 6/ BOUNDARY 7/ BOUNDARY 8/ BOUNDARY 9/ UPPER/ LOWER

・Checker mode:
CODE/ TAKING MODE/ TRIGGER MODE/ TAKING COUNT/ TAKING RATIO/ EMPTY COUNT/ NEAR ZERO/ DIGITAL LPF/ MOV. AVE. FILTER/ GROSS RATIO/ HISTOGRAM TARGET/ HISTOGRAM RANGE

・State output:
CODE/ OUTPUT SEL. 0/ OUTPUT SEL. 1*/ OUTPUT SEL. 2*/ OUTPUT SEL. 3*/ OUTPUT SEL. 4*
* Selectable from OUTPUT, COMP, NZ, TAKING, ERROR, LOWER, STAB, RUN

・Graph:
CODE/GRAPHIC MODE/TRIGGER LEVEL/X END POINT/Y START POINT/Y END POINT/DRAWING WEIGHT/ PRE TRIG.VALUE/FRONT OF FILTER

・Result:
CODE/ AVE.WEIGHT/ MAX.WEIGHT/ MIN.WEIGHT/ CNT.OF DATA/ GEN.STAN.DEV./ SMP.STAN.DEV./ MAX.-MIN./ LATEST DATA

・Comparison:
COMP MODE SEL./ STAND. CMP SEL./ COMPLETE OUT T./ NEAR ZERO COMP./ HI/LO COMP. SEL./ PRESET TARE WGT.1/ PRESET TARE WGT.2/ HOLD SELECT

・Operation:
MD (PERIOD)/ MD (RANGE)/ ZT (PERIOD)/ ZT (RANGE)/ INDICATE COLOR/ BACKLIGHT LOW TM/ BACKLIGHT ON TM/ AUTO ACCUMULAT./ OUTPUT MODE/ OUTPUT COMP. MODE/ WGT CODE INPUT/ ZT MODE/ AUTO ZERO AVE./ B4 FUNK. SELECT/ TAKING SPEED

・Communication:
COMM. MODE/ BAUD RATE/ LENGTH/ PARITY BIT/ STOP BIT/ TERMINATOR/ FLOW CONTROL/ SI/F OUT1 SELECT/ SI/F OUT2 SELECT

・System:
INITIALIZATION/ LOCK1/ LOCK2/ LOCK3/ PASSWORD/ LANGUAGE/ [GROSS/NET] KEY/ [DZ] KEY/ [TARE ON] KEY/ SELF CHECK DSP1/ SELFCHECK DSP2/ SELFCHECK MEM/ SELF CHECK KEY/ SELF CHECK EXT/ SELF CHECK COM

・Calibration:
ZERO CAL./ SPAN CAL./ EQUIV. CAL./ BALANCE WEIGHT/ MIN. SCALE DIV./ NET OVER/ GROSS OVER/ UNIT DISPLAY/ DECIMAL PLACE/DZ REGULATION VAL.
Total function

Histogram display
Numbers of data for each 9 weight ranges are displayed. Two set of data out of the range are displayed as well.d>

Weighing results
Results are displayed for each code.
Statistics
Display statistics data stored on F650-CK.
Display average weight, maximum weight, minimum weight, number of data, population standard deviation, sample standard deviation, difference between maximum and minimum, latest data.
External signal

External output (10)
OVER or RANK1 or RANK20/ GO or RANK2 or RANK21/ UNDER or RANK3 or RANK22/ NONE or RANK4 or RANK23/ NONE or RANK5 or STROBE/ OUTPUT SEL. 0/ OUTPUT SEL. 1/ OUTPUT SEL. 2/ OUTPUT SEL. 3/ OUTPUT SEL. 4
External input (10)
CODE0/ CODE1/ CODE2 or KEY LOCK/ Graph drawing/ D/Z ON/ TARE ON/ TARE OFF/ Accumulation command/ Measurement start/ Measurement reset
Interface

SIF
2-wire serial interface
232
RS-232C communication interface
485
RS-485 communication interface (Modbus-RTU/ UNI-format) (option)
BCO
BCD parallel data output interface (Sink type) (option)
BSC
BCD parallel data output interface (Source type) (option)
DAV
D/A converter(voltage output) (option)
DAI
D/A converter(current output) (option)
ODN
DeviceNet interface (option)
CCL
CC-Link interface (option)
Only one option can be installed.
General performance

Operating voltage・Power consumption
100 to 240 Vac ±10 to 15% (50/60Hz) 18W max
Operating conditions
Operation temperature range: -10 to +40℃
Storage temperature range: -20 to +60℃
Humidity: 80%RH or less (non-condensing)
Dimensions ・Weight
96(W)×96(H)×138(D)mm (Projections excluded)
Approx. 1.0kg
Attachments

AC power cable (voltage resistance: 125 Vac) (3m)
1
Jumper cable
2
FCN series I/O connector (with cover)
1
Operation manual
1
BCD output connector (when BCO option is installed)
1
Mini screwdriver (when D/A converter option is installed)
1
DeviceNet connector (with ODN option is installed)
1
CC-Link connector (when CCL option is installed)
1
Optional accessories

CA372-I/O
Cable with FCN connector at one-end 3m
CA600-BCDCNV
FCN connector 32p-57・36p cabtyre cable 0.3m
CA81-232X
miniDIN-D-Sub9p cross cable 1.5m
CAAC2P-B3
AC power cable 3m
CAAC3P-CEE7/7-B2
AC power cable (voltage resistance: 250 Vac) 2m
CN50
FCN series I/O connector (with cover)
CN51
BCD output connector
CN55
FCN series I/O connector (with diagonal cover)
CN60
Round DIN 8p connector for RS-232C
CN71
CC-Link connector
CN80
Analog I/O connector terminal
CND01
DeviceNet connector
DTC2-PSL
Case for F650
GMP96×96
Rubber seal
---
Please note that there are possibilities of individual differences in a color tone on display devices such as LEDs, fluorescent display tubes and LCDs due to manufacturing process or production lots.
---
Download
Product catalogue(PDF)

⇒Download Page

Operation manual(PDF)

External dimension

DXF
(ZIP)

PDF

Support tools

Software