Product outline
FC1000 is the weighing indicator with various features such as the white LCD main and sub display, dust and drip protection (Equivalent to IP65), accumulation function, data recording on SD Card, and high-speed A/D conversion rate of 1.2kHz.
SD card slot
You can write and read setting parameters from SD cards, while recording weighing results & data when abnormalities occur.
■ Calibration value & Error logs are automatically recorded
 You can identify the indications of faulty load cells and replacement timing.
 Date & time of errors occurred can be displayed, as well as the record of how the errors are made (through key control, communication, I/O, etc).
■ Data recording of weighing results
 Monitor management of raw material, equipment operation rate and so on.
 Long-term trend can be observed as well.
■ Restore setting parameters with just one touch
 ・You can copy setting parameters to another replaced FC1000.
 ・Multiple FC1000s can use the exact same settings.
 ・You can restore the initial setting when you first install FC1000. (It will be saved as initial value separately from the setting parameters).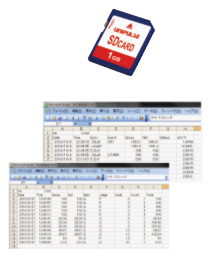 Depth of 99mm
Miniaturization of control panel & panel space saving.


High performance filter & Auto filter adjustment
With combination of low pass filter (0.1 to 300Hz) which corresponds to various vibration and moving average filter (OFF, 2 to 512) that is effective for periodic vibration, automatic searching for optimal value with accuracy and stability can be achieved. (You can manually adjust settings too).

Minus compensation
High-pressure liquid filling & powder feeding can be done.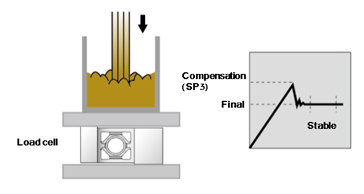 Equivalent to IP65 protection
By placing the rubber seal when mounting on the panel, the front panel can be protected from moisture and dust damage.
High sampling rate & resolution
High performance digital low-pass filter can be adjusted at 0.1Hz increment. As it is resistant to vibration, measurement can be performed quickly and precisely.
Load cell signal level display (-2.51mV/V to 5.1mV/V)
The output signal level of load cell can be displayed in mV/V for monitor purpose.
Malfunction indicator or faulty sensor can be differentiated easily.
Total weight control function
The batch weighing with a low capacity scale enables the fast and accurate measurement of larger total weight.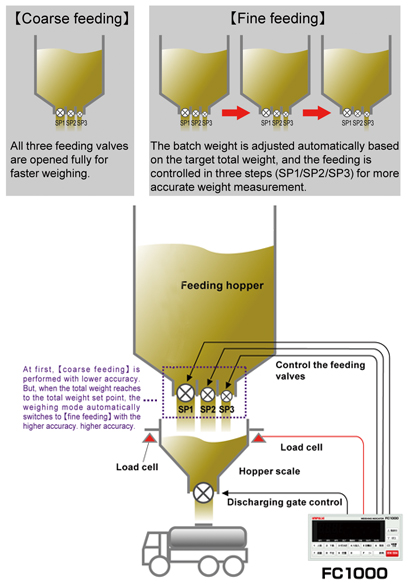 Bright white LCD display with the useful 20 digits sub display
The sub display can be used to show the cumulative weight, code/preset number, etc….

6 digit display
24 bit A/D convertor enables 6 digit display.
Memory for 32 weight settings
32 different weight settings can be saved in the memory and selected through I/O or interface.
Batch weighing can be performed easily.
Equivalent input calibration
Theoretical calibration can be performed easily by registering the capacity and rated output of load cells.
Multipoint calibration (linearization)
Three additional points can be defined in the middle between zero and span for better linearity.
Even though the scale has poor linearity, it can be corrected to be a highly accurate scale.

Structure of product code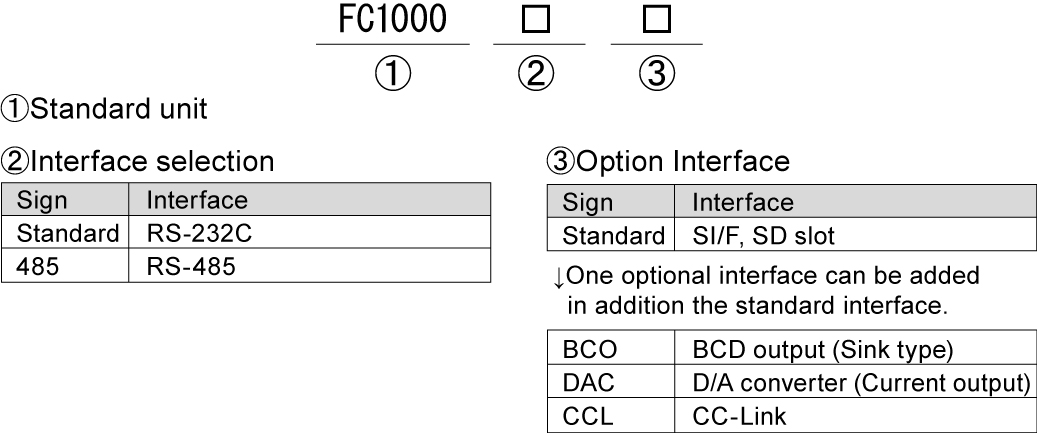 External dimension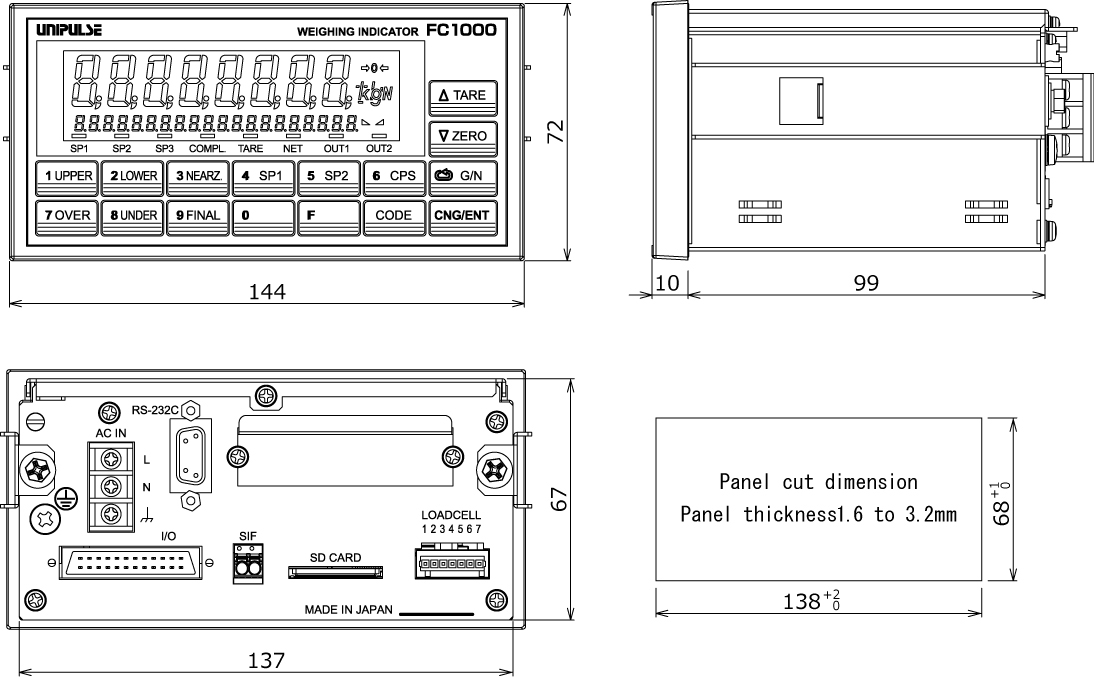 Specifications
Analog section|Display section|Setting section|External signal|Interface|General performance|Attachments
Analog section

Excitation voltage
DC5V±5% Output current:90mA
Remote sense type (Up to 6 350Ω load cells can be connected in parallel)
Signal input range
-2.5 to +5.1mV/V
Zero adjustment range
Automatic adjustment by digital processing -2.5 to +2.0mV/V
Span adjustment range

Automatic adjustment by digital processing 0.02 to +3.0mV/V

Gain correction
Up to three point multi-point calibration is possible using linearization function
Min. input sensitivity
0.15μV/count
Accuracy
Non-linearity: within 0.01%FS
Zero drift: 0.0002%FS/℃ Typ
Gain drift: 1ppm/℃ Typ
Filter
Digital low-pass filter 0.1 to 300.0 Hz
Moving average filter OFF, 2 to 512 times
A/D converter
Speed: 300 times/sec., 1200 times/sec.
Resolution: 24bit binary
Display section

Display Unit
7-segment LCD display
Main display: 8 digit(14.4mm character height),
Sub-display: 20 digit (4.3mm character height)
Display value
5 digit sign: negative display at the highest digit (Up to 6 digits)
Unit
None / kg / g / t / lb / N
Decimal point
0, 0.0, 0.00, 0.000
Weight errors
"LOAD": sensor signal level is above the signal input range,
"-LOAD": the sensor signal level is below the signal input range,
"OFL1": the Net weight is over the limit,
"OFL3": the GROSS weight is over the limit
Display frequency
1, 3, 6, 13 or 25 times/sec.
Status display
SP1 / SP2 / SP3 / COMPLETE / TARE ON / NET / OUT1 / OUT2
Setting section

Setting method
By operating the membrane keys or through interface
Memory of set value
Default settings: stored in NOV.RAM (non-volatile RAM)
Time: backed up by lithium battery
Other setting values: stored in F-RAM (non-volatile RAM)
Protection of set value
Settings can be protected with the software LOCK
Setting item
– Upper limit / Lower limit / Near zero / Set point 1 / Set point 2 / Compensation / Over / Under / Final
– Comparison inhibit time 1 / Judging time / Complete output time / Compensation Feeding Time / Number of times for AZ / Number of times for judging / Auto free fall compensation regulation values / Comparison inhibit time 2 / Preset tare value
– Weighing function 1 / Weighing function 2 / Weighing function 3 / Sequence mode / Key invalid-LOCK / Discharging Time / Motion detection(Period – Range) / Zero tracking (Period) / Zero tracking (Range)
– Balance weight value / Minimum scale division / NET weight over / GROSS weight over /DZ limitation value / Display selection / Gravitational acceleration / Sub-display mode /Sub-display selection
– D/A output mode / D/A zero scale adjustment / D/A full scale adjustment / RS-232C/RS-485 setting / RS-232C/RS-485 ID / Transmission delay time / CC-Link I/F setting / CC-Link station number setting / Setting LOCK
– Input Signal selection 1 / Input Signal selection 2 / Input Signal selection 3 / Output Signal selection 1 /Output Signal selection 2 / Output Signal selection 3 / Output Signal selection 4 / Status display selection / Sampling speed
– Total count / SP0 / Total comparison mode / Target total weight (high 4) /Target total weight (under 5) / Total SP1 (high 4) / Total SP1 (under 5)
– SD card command 1 / SD card command 2 / Time and Date / Auto adjustment filter / Digital low pass filter / Moving average filter / Extended function selection 1 / Extended function selection 2 / Total weight control function
– Average weight value / Maximum weight value / Minimum weight value /General standard deviation / Sample standard deviation / Number of data / Latest data /Maximum-Minimum / Option display
– Span calibration / Equivalent span calibration / Equivalent zero calibration / Linearize calibration 1 / Linearization calibration 2 / Linearization calibration 3 / Linearization Calibration / Calibration Point Confirmation / Password / Zero Calibration
External signal

Output signal (12)
Selectable/configurable
Open collector output
Vceo=30V, Ic=120mA
Input signal (8)
Selectable/configurable
Non-voltage contact input
(internal circuit power supply voltage 12V)
Interface
· SI/F interface
· SD card slot
· Select either RS-232C or RS-485 interface
· BCD parallel data output interface (Option)
· D/A converter current output (Option)
· CC-Link interface (option)
General performance

Power supply voltage
AC100 to 240V (+10% -15%) (free power source 50/60Hz)
Power consumption
5W typ
Operating conditions
Temperature Operating temperature range: -10 to +50℃
Storage temperature range: -20 to +60℃
Humidity 85%RH or less (non-condensing)
Dimensions
144(W)×72(H)×109(D)mm (excluding the projections)
Weight
Approx. 850g
Attachments
· AC input cord (nominal rating 125V) 3m···1
· FCN series I/O connector (with cover)···1
· Load cell input connector···1
· Operating tool···1
· Jumper cable···2
· SD card (1GB)···1
· Rubber seal for dust & drop-proof protection···1
· Quick manual···1
· BCD output connector (when BCO option is selected)···1
· D/A converter connector (when DAC option is selected)···1
· CC-Link connector (when CC-Link option is selected)···1
---
Please note that there are possibilities of individual differences in a color tone on display devices such as LEDs, fluorescent display tubes and LCDs due to manufacturing process or production lots.
---
Download
Product catalogue(PDF)

⇒Download Page

Operation manual(PDF)

External dimension

DXF
(ZIP)

PDF

Support tools

Software