Product outline
Thin, high accuracy stainless steel load cell.
Supports wide measuring range! (1-470T)
Can be used in tank, truck scale, etc!
Capacity 1t / 2.2t / 4.7t / 10t / 15t / 22t / 33t / 47t / 68t / 100t / 150t / 220t / 330t / 470t
Construction material: Stainless steel
Laser welded closed structure
Degrees of protection IP68
Specifications
Model
RTN C3
Rated capacity
1
2.2
4.7
10
15
22
33
47
68
100
150
220
330
470
t
Rated output
2.85±0.1%
mV/V
Maximum safe overload
1t:4
2.2t:9
4.7t:19
10t:40
15t:60
22t:88
33t:130
47t:190
68t:270
100t:400
150t:600
220t:770
330t:1100
470t:1500
t
Non-linearity
0.02 typ.
%R.O.
Hysteresis
0.02 typ.
%R.O.




Compensated temperature range
-10 to +40
℃
Safe temperature range
-30 to +80
℃
Temperature effect on zero
±0.007
%R.O./10K
Temperature effect on span
±0.008 typ.
%R.O./10K
Input resistance
4,450±100
Ω
Output resistance
4,010±0.5
Ω
Recommended excitation voltage
5
V
Excitation voltage range
5 to 30(Max.60)
V
Insulation resistance
20 or more
GΩ
Degrees of protection
IP68
Deflection at rated
1t:0.13
2.2t:0.12
4.7t:0.12
10t:0.17
15t:0.18
22t:0.21
33t:0.25
47t:0.33
68t:0.35
100t:0.45
150t:0.57
220t:0.67
330t:0.85
470t:1.00
mm
Loadcell material
Stainless steel
Weight
1t:0.6
2.2t:0.6
4.7t:0.7
10t:1.2
15t:1.3
22t:1.3
33t:2.1
47t:4.3
68t:4.8
100t:7.0
150t:8.6
220t:22
330t:29
470t:50
kg
External dimension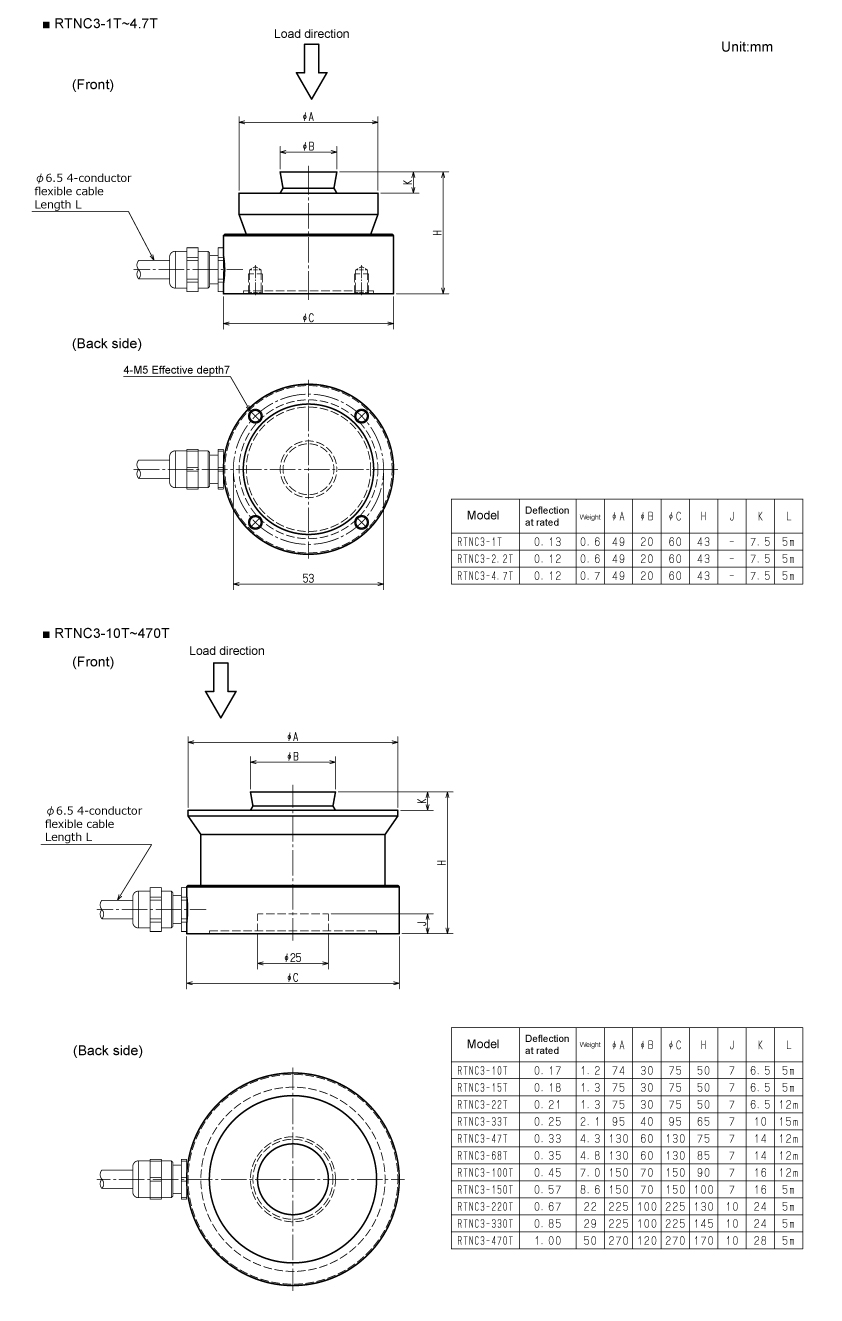 Download
Product catalogue(PDF)

RTN catalogue(519 KB)

Operation manual(PDF)

External dimention

DXF
(ZIP)

PDF

Support tools

Software
User registration is required to download operation manuals, external dimentions, support tools and software.
Acrobat Reader software from Adobe Systems is required to view PDF files.