Product outline
Compact compression type with a diameter of 20 mm and a height of 9.5 mm.
● Capacity 100 N / 200 N
● Construction material:stainless steel
● Compact compression type loadcell with a diameter of 20 mm and a height of 9.5 mm
● UNLRS-FG: W/ plate for screw fastening
Specifications
Model
UNLRS-100N, UNLRS-100N-FG,
UNLRS-200N, UNLRS-200N-FG
Rated capacity
100, 200
N
Rated output
1±20%
mV/V
Safe overload
150
%R.C.
Zero balance
±20
%R.O.
Non-linearity
0.3
%R.O.
Hysteresis
0.3
%R.O.
Repeatability
0.1
%R.O.
Compensated temperature range
0 to +60
℃
Safe temperature range
-10 to +60
℃
Temperature effect on zero
2.0
%R.O./10℃
Temperature effect on span
1.0
%R.O./10℃
Input resistance
Approx.350
Ω
Output resistance
Approx.350
Ω
Recommended excitation voltage
2.5
V
Maximum excitation voltage
6
V
Insulation resistance(DC50V)
1000 or more
MΩ
Cable
φ3 4-conductor color shield cable.  Length 3m.
End treatment 5-leads.
Cable color code
+EXC:Red
+SIG:Green
-EXC:White
-SIG:Black
SHIELD:Yellow
Loadcell material
Stainless steel
Deflection at rated
0.015
mm
Natural frequency
100N:21
200N:25
kHz
Weight
100N:5
100N-FG:18
200N:5
200N-FG:18
g
External dimension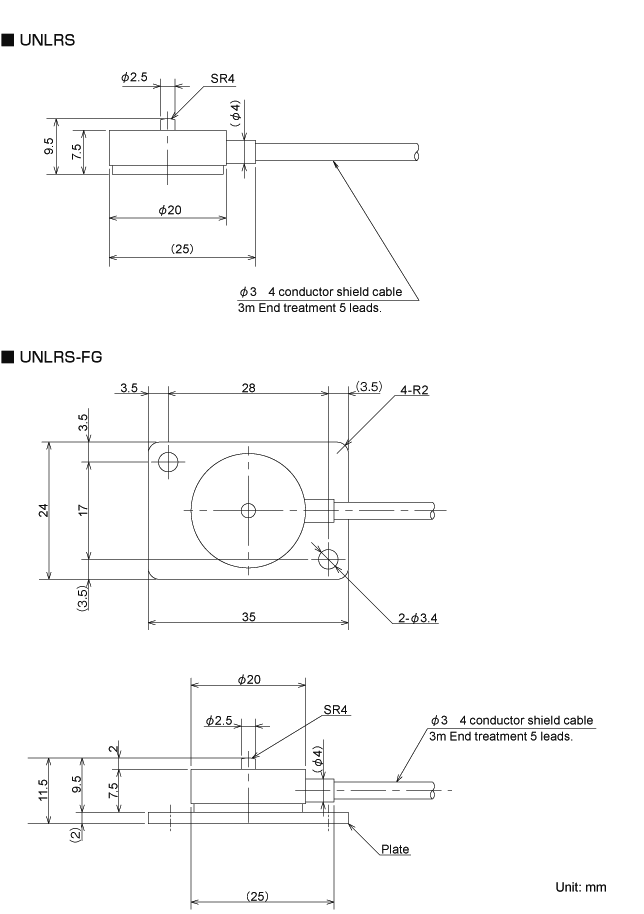 Download
Product catalogue(PDF)

UNLRS catalogue(592 KB)

Operation manual(PDF)

External dimention

DXF
(ZIP)

PDF

Support tools

Software
User registration is required to download operation manuals, external dimentions, support tools and software.
Acrobat Reader software from Adobe Systems is required to view PDF files.