Product outline
Ideal torque meter for torque monitoring of screwdriving machines and power tools such as nutrunners.
Ensures high speed and accurate torque measurement during tightening with UTMⅡ.
Can be used with portable torque monitor TM400 for on-site calibration.

Torque monitoring : UTMⅡ(W)
Torque+Angle monitoring : UTMⅡ(WR)


■ Capacity: 10Nm/20Nm/50Nm/100Nm/500Nm

Please contact us now for product trial or demonstration!



This product is not for impact wrenches.

Torque can be monitored easily just by setting the sensor between socket and shaft of a nut runner.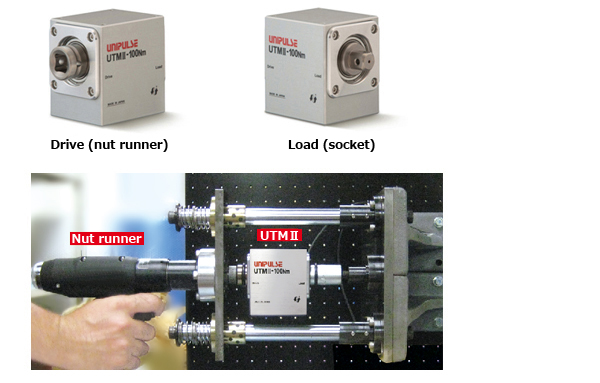 0.03% high accuracy & stable


Non-linearity of 0.03% with outstanding zero stability.
Small torque can be measured at high accuracy.

Avoid data loss


No slip-ring ensures that torque can be measured consistently.
Best fit for angular tightening (rotation angle method)! UTM II(WR)
By monitoring rotation angle and torque at the same time, accuracy and consistency of torque tightening can be checked.


3600 torque pulses per rotation with 0.1 degree resolution※


Can be used for on-site calibration with 0.1 degree resolution!
※When using TM400

Portable torque monitor TM400(Optional accessories)


Portable type with built-in battery. Changes in torque can be displayed with respect to angle.
Peak value of torque and angle can be measured and saved in internal memory.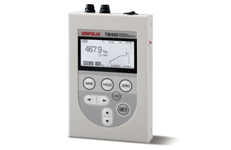 Specifications
UTM II(W)specifications|UTM II(WR)specifications
UTM Ⅱ(W)

Model
UTMⅡ-100Nm(W)
UTMⅡ-500Nm(W)
Measurement range
±100Nm
±500Nm
Power supply
DC24V ±15% 
Power consumption
150mA or less
Output range
±5V DC Load resistance must be more than 2kΩ
Responsivity
1kHz
Rotation signal
4 pulses per 1 rotation
Open collector Max. ratings 30V, 10mA
Safe overload
500%FS
Non-linearity
0.03%FS
Hysteresis
0.03%FS
Repeatability
0.03%FS
Operation temp . range
-10 to +50℃
Temp. effect on ZERO
0.01%FS/℃
Temp. effect on span
0.01%FS/℃
Max. rotation speed
15000rpm
10000rpm
Torsional spring constant
38.5×103 Nm/rad
265×103 Nm/rad
Maximum torsional angle
2.60×10-3rad(0.149°)
1.88×10-3rad(0.108°)
Inertia moment
3.8×10-5kgm2
2.15×10-4kgm2
Ext. dimension (case size)
67(W)×74(H)×57(D)mm
67(W)×79(H)×72(D)mm
Total length
100.5mm
115mm
Shaft diameter
□12.7mm
□19.05mm
Weight
Approx. 0.8kg
Approx. 1.4kg
CE marking certification
EMC directives EN61326-1,EN61326-2-3
UTM Ⅱ(WR)

Model
UTMⅡ-10Nm(WR)-6.35
UTMⅡ-20Nm(WR)-6.35
UTMⅡ-50Nm(WR)-9.53
UTMⅡ-100Nm(WR)-12.7
UTMⅡ-100Nm(WR)-19.05
UTMⅡ-500Nm(WR)-19.05
Measurement range
±10Nm
±20Nm
±50Nm
±100Nm
±100Nm
±500Nm
Power supply
DC24V ±15% 
DC24V ±30% 
Power consumption
100mA or less
150mA or less
Output range
±5V DC Load resistance must be more than 2kΩ
Responsivity
1kHz
Rotation signal
4 pulses per 1 rotation
Open collector Max. ratings 30V, 10mA
Angle of rotation (encoder) output
3600 torque pulses per rotation
Safe overload
300%FS
150%FS
500%FS
Non-linearity
0.03%FS
Hysteresis
0.03%FS
Repeatability
0.03%FS
Operation temp . range
-10 to +50℃
Temp. effect on ZERO
0.01%FS/℃
Temp. effect on span
0.01%FS/℃
Max. rotation speed
(Measurable range for angle)
10000rpm
(800rpm)
Torsional spring constant
2.15×103 Nm/rad
17.6×103 Nm/rad
26.4×103 Nm/rad
54.6×103 Nm/rad
136×103 Nm/rad
Maximum torsional angle
4.64×10-3rad (0.262°)
9.29×10-3rad (0.532°)
2.84×10-3rad (0.163°)
3.78×10-3rad (0.217°)
1.83×10-3rad (0.105°)
3.68×10-3rad (0.211°)
Inertia moment
4.64×10-6kgm2
3.33×10-5kgm2
3.58×10-5kgm2
1.92×10-4kgm2
2.06×10-4kgm2
Ext. dimension
(case size)
77(W)×55(H)×40(D)mm
87(W)×74(H)×57(D)mm
87(W)×79(H)×72(D)mm
Total length
96.5mm
112mm
120.5mm
133mm
Shaft diameter
□6.35mm
□9.53mm
□12.7mm
□19.05mm
Weight
Approx. 0.31kg
Approx. 1.8kg
Approx. 0.9kg
Approx. 1.7kg
Approx. 1.8kg
CE marking certification
EMC directives EN61326-1,EN61326-2-3
Download
Product catalogue(PDF)

⇒Download Page

Operation manual(PDF)

External dimension

DXF
(ZIP)

PDF

Support tools

Software