Product outline
Most appropriate for load control of hopper scales, conveyor scales, etc.
● Capacity 5 kg / 10 kg / 20 kg / 50 kg / 100 kg / 200 kg
● High accuracy, constructed of stainless steel, hermetically sealed
● Stainless steel bellows that eliminate disturbance
● Applications: Hopper scales, conveyor scales, etc.
Specifications
Model
Z6FD1-5KG
Z6FC3-10KG
Z6FC3-20KG, Z6FC3-50KG,
Z6FC3-100KG, Z6FC3-200KG, Z6FC3-500KG, Z6FC3-1t
Rated capacity
5kg
10kg
20kg, 50kg, 100kg, 200kg, 500kg, 1t
Rated output
2.0 +0.02 -0.002
2±0.1%
2±0.05%
mV/V
Safe overload
150
%R.C.
Non-linearity
0.05
0.0180 (typ)
%R.O.
Hysteresis
0.05
0.0170 (typ)
%R.O.
Creep
0.049
0.0166
%R.O./30min
Compensated temperature range
-10~+40
℃
Safe temperature range
-30~+70
℃
Temperature effect on zero
0.05
0.0125
%R.O./10℃
Temperature effect on span
0.05
0.0080(typ)
%R.O./10℃
Input resistance
350~480
Ω
Output resistance
356±0.2
356±0.12
Ω
Maximum excitation voltage
12
V
Insulation resistance
5000以上
MΩ
Degrees of protection
IP68
Cable
φ5.4 6-conductor color shield cable. Length 3m
Cable color code
+EXC:Blue
+S:Green
-S:Gray
-EXC:Black
+SIG:White
-SIG:Red
SHIELD
Loadcell material
Stainless steel
Deflection at rated
5KG:0.24
10KG:0.3
20KG:0.29
50KG:0.27
100KG:0.31
200KG:0.39
500KG:0.6
1T:0.55

mm

Weight
5KG~500KG:0.5
1T:2.3
kg
External dimension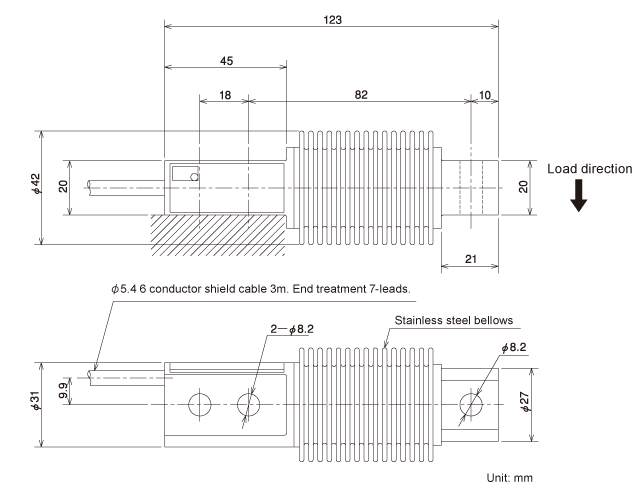 Download
User registration is required to download operation manuals, external dimentions, support tools and software.
Acrobat Reader software from Adobe Systems is required to view PDF files.